Welcome To Great Dalby Church
The spire fell down in 1658.........................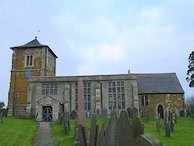 St Swithun's Church - Great Dalby
"If it rains on St. Swithun's Day, it will rain for 40 days"
Well, as we all know it did rain for many days at the beginning of April
and continues to do so. OUR LEAD WAS STOLEN during this period
and we have a sodden church nave. A huge thank you must go to those
who rallied to mop up the floors, and pull back the carpets to
let the church dry out. Darren Guess of Burrough did a superb and almost instant
job of covering the wooden roof with a temporary material to minimise the
ingress of more rain. We think we know the route the thieves took and we have a good footprint.
We also know their methods of carrying the lead to a vehicle. Such a sad end to old lead
which has been looked after by generations of Great Dalby people.
The lead thieves have visited again during May, and have stolen more lead from the main roof,
slicing through the plastic covering. They have also stolen half of the ancient graffitied lead from
the porch roof. Luckily we have photos of this marvellous work, done in the late 1700's.
*************************************************************************************************
Our next fundraising event will be the annual Dalby Dollop

which this year, will be held on 21st October 2018. More information when available
**************************************************************************************************

GREAT DALBY BEING GREAT
Save