Welcome To Great Dalby Church
We are having a special service on Sunday 7th August at 3pm, followed by tea and cakes.
With the closing and sale of the Methodist Church in Great Dalby, the Parish church will be looking after some favourite artifacts. It is felt that these items should be kept in the village of Great Dalby for the foreseeable future. The central oak Cross (made from old Methodist church pews), the small carved oak baptismal font, and two framed tapestries made in the village. One stitched by Ann Goodman in 1848 at the age of 12. The Goodmans lived opposite the MC. She was related to the Pick family, who were amongst the first villagers to set up the Methodist Church. Ann's father John was a Cordwainer (shoemaker) and grocer.
The spire fell down in 1658.........................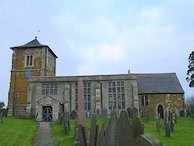 St Swithun's Church - Great Dalby
"If it rains on St. Swithun's Day, it will rain for 40 days"
Introducing the Rev'd Jane Walker

Back in February 2020, Rev'd Jane Walker and her husband Bill moved from Nottingham to The Rectory in Somerby, and there was a splendid service of Welcome and Licensing for Jane as Associate Priest in the Burrough Hill Benefice. Unfortunately, this was swiftly followed by the lockdown, affecting so many aspects of all our lives. Nevertheless, Jane has been beginning her ministry and settling into her new home in Somerby, and looks forward to more actively getting to know the village communities as opportunities arise. Jane is working for the church in the five parishes of Burrough on the Hill, Great Dalby, Little Dalby, Pickwell w. Leesthorpe, and Somerby. Her role is part-time, and will focus primarily on providing spiritual care, support and encouragement, strengthening the valuable links which exist between the churches and village life.
If anyone would like to be in touch with Jane about any personal or community matters then she can be contacted as follows:
The Rectory,1 High Street, Somerby, Leicestershire, LE14 2PZ
Phone: 01664 452172 Email: [email protected]
If you have a safeguarding concern, then please contact our local Safeguarding Co-ordinator. Contact information is displayed in church. If you wish to speak to the Diocesan Safeguarding Team, or to someone outside the church, their contact details are available here

https://www.leicester.anglican.org/about/safeguarding/
GREAT DALBY BEING GREAT
Save