Welcome To Great Dalby Church
The spire fell down in 1658.........................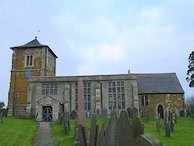 St Swithun's Church - Great Dalby
"If it rains on St. Swithun's Day, it will rain for 40 days"
Our very own new Vicar, Revd Jane Walker will be licensed to the

Burrough Hill Parishes

at Pickwell Church on Thursday 27th February 2020. This celebration will be conducted by Rt Revd Guli Francis-Dehqani Bishop of Loughborough.
Revd Jane will live in Somerby Rectory with her family in exchange for 20 hours work per week for the parishes of Burrough-on-the-hill, Pickwell, Somerby, Great & Little Dalby. The service will be followed by light refreshments in Pickwell Church.
If you have a safeguarding concern, then please contact our local Safeguarding Co-ordinator. Contact information is displayed in church. If you wish to speak to the Diocesan Safeguarding Team, or to someone outside the church, their contact details are available here

https://www.leicester.anglican.org/about/safeguarding/
GREAT DALBY BEING GREAT
Save