News
Tudor Christmas
(January 03, 2015)
---
The Tudor Christmas events created a beautiful way to show-off our little medieval church. The plain stone walls, and plain leaded light windows were the perfect backdrop to have it dripping with holly and ivy. Roy Fisher made all this possible by suggesting, designing, making and fitting various removeable wooden supports for the greenery. Members of the Garden Club were extremely supportive providing expertise, greenery and encouragement. The church still looks as good today at is did on 9th December, when the decorating was started.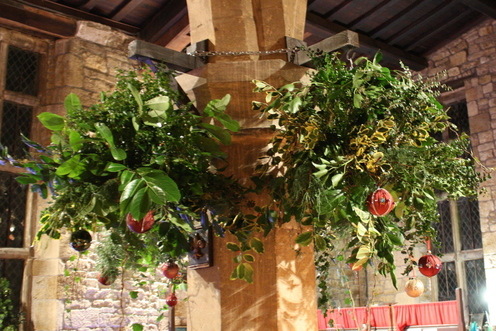 The money raised from the various events will go towards the upkeep of the building............... firstly replacing the broken and fallen cast iron guttering on the north side of the tower.
For the Tudor event research was done into the death of one Miles Whitworth, Gent. of Burton Lazars, whose tombstone lies under the altar in Great Dalby church. Why? ....................... well he died in 1711 and was buried either in a crypt under the altar or in the churchyard. He is famous in the Boon Island story which took place on that scrap of a rocky island, 6 miles off the coast of Maine, USA. Miles Whitworth was a merchant on the Nottingham Galley, and as well as being a part owner of the ship, also owned some of the cargo of cordage, butter and cheese, the latter 2 items being picked up in Killybegs, Ireland. The rest is history, and all the reader needs to do is Google any of the above words! Let us just say that it may be inappropriate to go into too much detail on a church website. He must have lived in Great Dalby, as the tombstone comments on the deaths 'some time before' of three of his daughters. One of whom is in our baptismal records.